Welcome to Piggyharnesses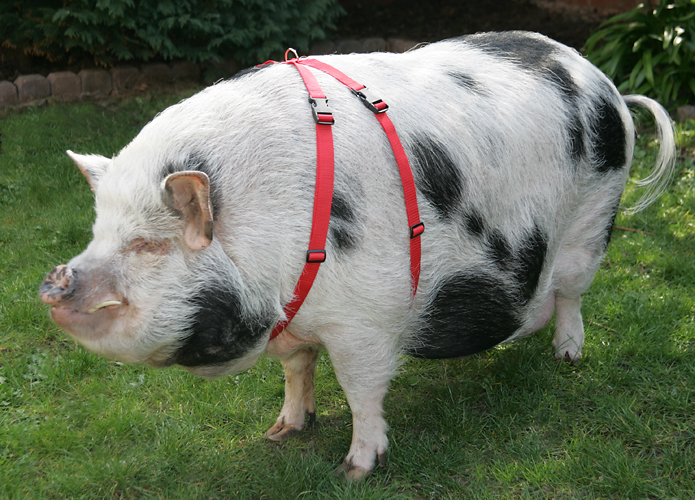 We're a small family run business of pet pig lovers from the UK, who handmake bespoke harnesses and accessories in-house for your lovable domestic pet pigs, from small baby piglets to large gentle giants, we can cater for them all.
All our harnesses are individually made to measure and are fully adjustable to allow for comfort and growing room, which are easy to fit with two heavy duty nylon quick side release safety clips, positioned on the left hand side of the harness, also making it very simple and safer to remove as the harness does not require to be pulled over the piggies head, you just unclip to release it.
Made from strong 350lbs tested Polypropylene you can choose from two different styles, the standard 'A' harness or the alternative 'H' harness, in a range of four colours, red, baby pink, black and royal blue and in two width fittings, 15mm for the small piggies and 25mm for the larger piggies.
Our piggy leads or leases, again are handmade in matching colours and widths as your harness, available in standard sizes,
short (1 metre) medium (1.5 Metres) and long (2 metres) with strong chrome trigger fittings. Custom sizes are also available and can be made to order.
All our products are fully guaranteed under normal wear and tear conditions. We accept all major credit and debit cards, and orders can be placed over the phone personally with us for a very quick delivery, normally within seven days.
Our site is still currently undergoing some updates, but most of our range is available here to see, so just click on the navigation links above to take you to the section you wish to go to, in the meantime, if you would like any further information on any
of our products and services then please contact us either by email or telephone.

Copyright©Piggyharnesses.co.uk 2016